Routine dental care matters.
A pet's dental health is just as important as their physical health, however, it often goes overlooked. The reality is that oral hygiene plays a huge part in ensuring your pet lives a long, healthy life.
Brushing twice daily and semi-annual cleanings are normal for all of us. What about your pet? Have you looked at your pets' mouth recently? Periodontal disease is the most common clinical condition occurring in adult dogs and cats and is entirely preventable according to the American Veterinary Dental College. Here are some facts about your pet's teeth and gums:
Studies have shown that periodontal disease can cause bacteria to spread through the bloodstream, negatively affecting the heart, liver, and kidneys.
Prevention includes regular dental exams, home oral care starting at a young age and regular professional cleanings.
Signs of dental disease include bad breath, brown or discolored teeth, loose teeth, red and swollen gums, excessive salivation, pain when chewing, weight loss, appetite loss, depression, pawing at the mouth and growths in the mouth.
Treatment of existing dental disease requires dental x-rays, general anesthesia, and appropriate therapy.
El Cid Animal Clinic sees more pets with dental disease than any other problem. Statistics show that dental disease is the most common disease in dogs. Overall at least 92% of dogs over the age of 3 are affected. Although less preventable in cats, statistics show that 85% of cats over the age of 3 struggle with the disease. However, scheduling annual pet cleanings can add 2-4 years to your pet's life! While any dog may develop a dental disease, certain dogs are much more prone to serious teeth and gum issues than others. These include small dogs, which have the full set of 42 teeth in a much smaller mouth, and the short-nosed breeds, such as bulldogs, boxers, and Pekingese.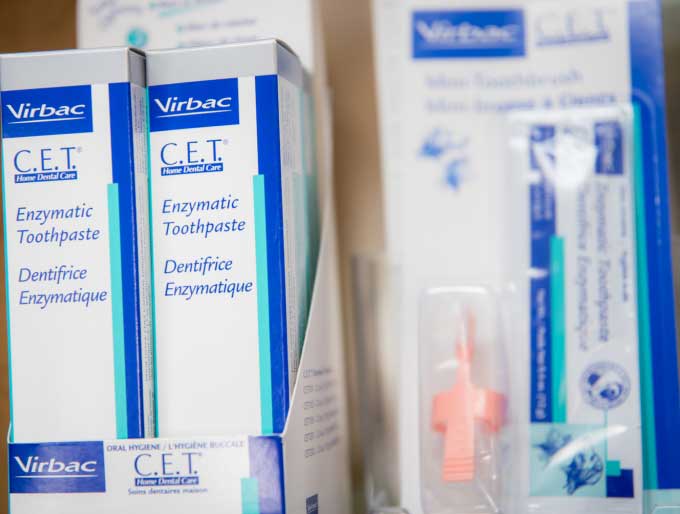 At-home pet dental care
Pet dental health is so important for each pet's lifelong, overall health. The team at El Cid Animal Clinic recommends ongoing, at-home pet dental care to preserve your pet's oral well-being. We recommend Virbac's C.E.T Dental Health Care products. These products include toothpaste and toothbrushes, but also products that are easier to use such as easy-to-give cleaning treats! We can help you choose and utilize the best products for your pet's lifestyle and needs.
Professional pet dental work is only part of what we do to help keep your pet's mouth healthy. After all, your pet has dental needs on a daily basis and professional care only comes a few times a year. We collaborate with you to ensure that your pet is receiving the dental maintenance and preventative care it needs.
Call us at (561) 832-7922 to schedule your pet's oral health assessment or dental cleaning.